Just when we thought Stanley Tucci had secured a place in our hearts with his incredible filmography, he appeared on our screens with something a little different. Something that made us love him even more. Stanley Tucci: Searching for Italy is a glorious food documentary-cum-love letter to Italian food, drink and culture. 
He takes viewers on a journey through 20 Italian regions to eat, drink and chat to the beautiful Italian people — all while impeccably dressed, of course.  
Please beware as this show should really come with a warning: 'May cause uncontrollable urge to run away to Italy and eat everything'. 
Here are the 10 reasons why Stanley is such perfect TV viewing. 
1. His silky soft, New York drawl.
Some people have a voice that immediately puts you at ease. Stanley is one of them.
2. During lockdown he shared cocktail making classes on Instagram – yes please.
If you need a perfect negroni recipe then look no further than @stanleytucci
3. His sense of style — no explanation needed. 
4.  'Gird your loins'
This iconic line from the movie, The Devil Wears Prada was improvised by Stanley. The original script read 'Man your battle stations!' which doesn't have quite the same ring to it!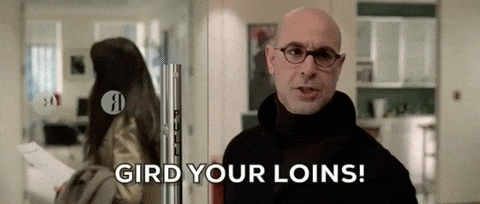 5. We endlessly admire his openness about grieving the loss of his late wife.
He regularly speaks about his ongoing grief over the loss of first wife Kate. His frankness is comforting to so many who have suffered similar losses. 
6. He's a family man.
He said his perfect day consists of visiting a farmers' market, hanging out with his kids and then preparing a meal for his loved ones.  
7. Is he one of the most iconic glasses wearers of all time? Probably.
His thick-framed glasses are inspiration for aspiring fashionistas everywhere.  
8. He makes his co-stars cocktails on set.
In an interview with Graham Norton, he confirmed he has a portable cocktail set he takes with him everywhere and makes martinis at the end of a long hard day. 
9. He has a secret family recipe for timpano which he makes every Christmas.
If you've seen the film Big Night, the scene with the delicious pasta pot is actually Stanley's very own creation!
10. 'Cook. Smell. Taste. Eat. Drink. Share. Repeat as necessary.' 
His mantra which he shares in his memoir, Taste, is pretty perfect!
You can find Stanley Tucci: Searching for Italy season one on BBC iPlayer now.
Read more about our favourite people here.